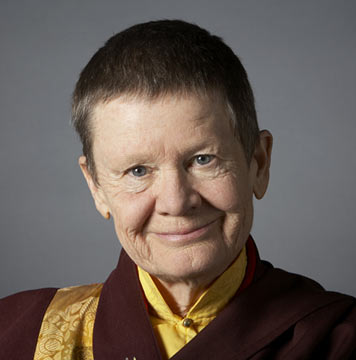 New Pema Chödrön Book Study Group: The Places That Scare You: A Guide to Fearlessness in Difficult Times
with Susan Delaney
The Places That Scare You: A Guide to Fearlessness in Difficult Times
We always have a choice, Pema Chödrön teaches:
We can let the circumstances of our lives harden us and make us increasingly resentful and afraid, or we can let them soften us and make us kinder. Here Pema provides the tools to deal with the difficulties that life throws our way. This wisdom is always available to us, she teaches, but we usually block it with habitual patterns rooted in fear. This book shows us how to awaken our basic goodness and connect with others, to accept ourselves and others complete with faults and imperfections, and to stay in the present moment by seeing through the strategies of ego that cause us to resist life as it is.
In this turbulent time, confronting emotions can be even more unsettling than usual. So, this book seems appropriate and helpful. Following a study guide, we'll read a few chapters for each meeting and gather via Zoom to discuss them in terms of our own lives. Through the readings and our shared experiences, we hope to gain equanimity and break our "habitual patterns rooted in fear."
Study Group Leader: Susan Delaney
Susan is a student of Shambala, and also Tucson Shambhala's webmaster. She is also a long-time Shamanic Practitioner, having studied with a number of teachers from the Foundation for Shamanic Studies.
After you register, you will receive a ZOOM link to the study group. If you don't see it in your email, please check your spam folder.
Participants will need a copy of the book.