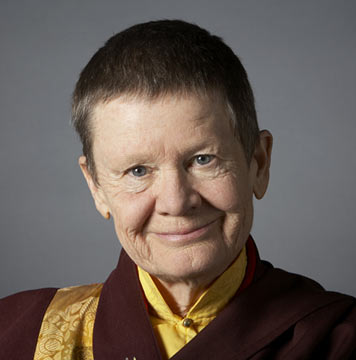 Pema Chödrön Book Study Group: When Things Fall Apart
with Cheryl Purvis
Join us for an online study and discussion group to help navigate these volatile and uncertain times when we may feel that there is no clear way to manage the world we see around us. Pema Chodron acknowledges our suffering and offers us wisdom, understanding, and humor so that we may find our own inner resilience. Please register no later than Oct. 3, 2020, if you would like to be part of this discussion group.
Her book When Things Fall Apart will be divided into seven sections for purposes of the study group. Participants are invited to do assigned readings and practices and then to gather via ZOOM for a discussion to share thoughts, experiences and create "ah-ha" moments together. The aim of the group is to gain equanimity, wisdom, and joy in our daily life and to join with others who are traveling on the same path.
Pema Chodron introduces her book to readers in this way:
"If your life is chaotic and stressful, there's plenty of advice here for you. If you're in transition, suffering from loss, or just fundamentally restless, these teachings are tailor-made. The main point is that we all need to be reminded and encouraged to relax with whatever arises and bring whatever we encounter to the path."
Study Group Leader: Cheryl Purvis
Cheryl began her meditation practice in the 1990s in the Theravadan tradition. She became interested in learning more about Tibetan Buddhism and has continued her studies and works to achieve a daily sitting practice. She serves as Umdze for the Tucson Shambhala Saturday Morning Sit. In addition to practice on the cushion, she is a hospice volunteer, which helps her to remain aware of impermanence.
After you register, you will receive a ZOOM link to the study group. If you don't see it in your email, please check your spam folder.
Participants will need a copy of the book.