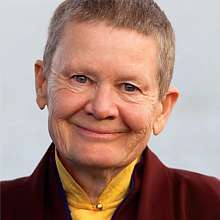 Path of the Bodhisattva, The Six Paramitas
This online self-study course offers a special opportunity to experience Pema Chödrön's generous heart and deep wisdom. Featuring one of six talks from her "Heart of the Matter" series, this talk on The Six Paramitas was filmed in the intimate setting of Gampo Abbey.
Together we will explore how embodying the six paramitas—generosity, discipline, patience, exertion, meditation, and wisdom—can support our movement toward a more wise and open-hearted life.
WISDOM Together we will cultivate the attitudes of mind that help us develop a compassionate engagement with the world.
JOY We can discover the joy and fullness that comes from leaving our comfort zones, untangling habitual attachments, and living in the present.
RESILIENCE Explore how to use the difficulties of our life, such as loss, shame, and overwhelming emotions as a means to awaken.
As her theme for the course, Pema uses a short Buddhist text especially close to her heart, Thirty-Seven Practices of a Bodhisattva. This classic text, which could be said to summarize the major themes of Pema's teachings over the years, presents ways that we can work with our own hearts and minds.
The course will be facilitated by Tere Miller and Marianna Cacciatore who will create the space for sitting practice, reflection, and discussion of the teachings.
We look forward to hosting you for this wonderful online experience!