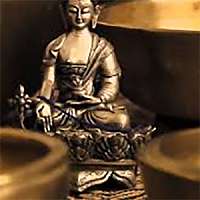 Sunday Morning Chants followed by Sitting Practice
Chanting is a practice in Shambhala Buddhism. One aspect is mindfulness of speech and being in unison with the voices of others. We pay attention to how we pronounce words. Most importantly it is a practice of mindfulness – awareness (shamatha-vipashyana). The words we are chanting are profound teachings of the Shambhala Buddhist lineage. They are teachings of how to wake ourselves up, have compassion for ourselves and others and how to create a good human community. As we chant, the wisdom of the words penetrate our being. If we can open to the wisdom of the words, we can begin to embody this wisdom in our lives.
As part of our Sunday morning meditation practice, we will begin with approximately 15 minutes of chanting. Some chants that we will regularly chant are:
PROCLAMATION OF GOODNESS
THE FOUR DHARMAS OF GAMPOPA
7-LINE SUPPLICATION TO PADMAKARA
SUPPLICATION TO THE SHAMBHALA LINEAGE
SUPPLICATION TO THE TAKPO KAGYU
THE HEART SUTRA
HOMAGE
SUPPLICATION TO THE MOTHER LINEAGE
SHAMBHALA PROTECTOR CHANTS
BUDDHIST AND SHAMBHALA DEDICATIONS OF MERIT
To attend our opening chanting sessions, please arrive at the center early so that you can be in the meditation hall and seated before 9:15 am. Once the chanting session begins, the meditation hall doors will be closed - entry into the hall, once the chants have begun is not possible. Entry will be welcomed once the chanting session completes and the sitting session begins - approximately 9:30 am.