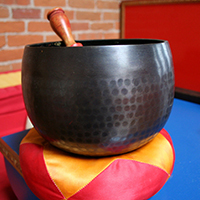 TUCSON Online Sunday Morning Meditation
Sunday Morning Chants and Sitting Via Zoom Meeting
Our online room will open at 9:00 AM
All are welcome to join us for a virtual sitting meditation session, via Zoom link, starting at 9:15 am and ending around 10:45 am.
The morning session will begin with chants to uplift our spirits and intentions (Note: attendance at chants is always optional).
This will be followed by two sitting meditation sessions beginning at 9:30 am, with a short break in between. Prior to the second meditation session, a short reading/teaching will be given that may be combined with a phrase that can be used for contemplative meditation. If there is interest, there may also be the opportunity for participants to stay for a discussion of the morning reading.
To join the meditation please click the link above.
New to meditation? We offer free virtual meditation instruction that can be arranged by emailing us at: