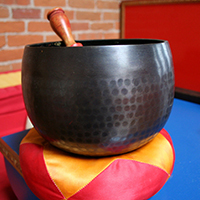 Sunday Morning Meditation
All are welcome to our Sunday morning chants and meditation practice, from 9:15 am to 10:45 am. Sessions of silent sitting meditation are alternated with walking meditation.
PLEASE NOTE: Chanting to open our sitting practice starts promtly at 9:15 am. For those who do not wish to participate in chanting, please feel free to enter the meditation hall after chanting concludes - approximately 9:30 am.
Feel free to arrive late and leave early, as your schedule allows!